WORKSHOP DEPARTMENT

In this dynamic world, Technology plays a significant role in the learning. It is an established fact that one can have a strong grip on the concept of science and technology by seeking logic and reasoning behind them rather than just mugging them up. The youth of today is brimming with curiosity and inquisitiveness. They are perpetually on the move. The rapid pace of technological advancement has made it imperative for us to be well informed in the global scenario. Each day in our life dawns with new challenges to be faced. One needs to be geared up to face these challenges with determination, righteousness and well directed thoughts. All these geared mechanisms are boosted only with the help of practical aspects which are only and only possible on the floor of "workshop" A workshop is an informative or instructional class focused on teaching specialized skill or exploring a particular subject. The workshop has eight constituent shops viz, Machine Shop, Sheet Metal shop, Fitting Shop, Electrical and Electronics Shop, Welding Shop, Carpentry Shop, Forging shop and Foundry Shop.
The engineering workshops have two main functions. Firstly its resources and facilities are utilized for academic work and training of engineering undergraduates. Experiments as well as training sessions are conducted for the first and second year undergraduates in the areas of manufacturing practices, workshop technology, production engineering and technology. In addition to these, the manufacturing of is also carried out in the workshops.
The other function includes the manufacture/fabrication of necessary hardware for student projects, for teaching and research, maintenance of machines and equipment and a variety of fabrication work for the institution.
Er. Sikander Singh Sidhu
Incharge Workshop
Staff of Central Workshop-GZSCCET MRSPTU

Name
Designation
Qualification
Shop Name
Contact No. & e-mail

Er. Sikander Singh

Sidhu

Foreman Instructor

Assitant Director Sports

M. Tech (Industrial Engg.)

Incharge

Workshop

9417121706

siksidhuworkshop@mrsptu.ac.in

Sh. Dilbag Singh

Workshop

Instructor

& Assistant Security Incharge

NTC(WELDING)

Welding Shop

94170-90599

Dilbagsohiworkshop@mrsptu.ac.in

Er. Ranjeev Kumar

Bansal

Workshop

Instructor

B. Tech. (Mechanical Engg.)

M. Tech.(Mechanical Engg.)

Sheet Metal

shop

98151-05252

rajeev.bansalworkshop@mrsptu.ac.in

Sh. Hemant Kumar

Workshop

Instructor

NTC(Foundry)

NAC(Foundry)

Craft Instructor (Foundry)

Foundry Shop

94177-52387

gzshemantworkshop@mrsptu.ac.in

Sh. Narvinder Singh

Workshop

Instructor

Diploma in

Production &

Industrial Engg.

Forging Shop

94630-75661

narvindersinghworkshop@mrsptu.ac.in

Sh. Gurmit Singh

Sandhu

Workshop

Instructor

NTC (Machinist Composite),

CTI (Machinist Composite),

Diploma In Foremanship.

Machine Shop

9417131388

gssandhuworkshop@mrsptu.ac.in

Sh. Sukhminder Singh

Workshop

Instructor

NTC(Welding)

Welding Shop

94170-26848

sukhmindersinghworkshop@mrsptu.ac.in

Er. Jatinder Kumar

Workshop

Instructor

B. Tech. (Mech.)

M. Tech. (Prod.)

Fitting Shop

94175-25904

jatinderk.workshop@mrsptu.ac.in

Sh. Avtar Singh

Workshop

Instructor

NTC (Carpentry)

Carpentry Shop

98728-37357

avtarsinghworkshop@mrsptu.ac.in

Sh. Ranjeet Singh

Brar

Technician

Gr-I

Diploma in

Electrical Engg.

Electrical Shop

94652-87408

ranjitworkshop@mrsptu.ac.in

Sh. Harjinder Singh

Atwal

Technician

Gr-II

NTC(Foundry)

Foundry Shop

90415-86331

harjinderworkshop@mrsptu.ac.in

Sh. Jagjit Singh

Technician Grade-II

Matriculation

Forging Shop

94175-81581

jagjitworkshop@mrsptu.ac.in

Sh. Jaspal Singh

Technician Grade-II

I.T.I

Carpentry shop

9988162756

jaspalworkshop@mrsptu.ac.in

Sh. Sanjeev Kumar

Lab

Attendant

+2 & NTC (Wireless

Operator)

Machine Shop

& Fitting Shop

94635-66627

Satpal Singh

Clerk

Matriculation

Office

94634-77290

Sh. Parwinder Singh

(Outsourced)

Lab

Attendant

10+2

Sheet Metal,

Forging &

Electrical Shop

98768-34718

Sh. Baljinder Singh

(Outsourced)

Lab

Attendant

Matriculation

Foundry Shop,

Welding Shop

& Carpentry

Shop

94631-42872
Sr. no.
Name of Shop
Name of Staff
Designation
Contact No.
1.
Machine Shop
Rajesh Kr. Arora
Workshop Instructor
9417118699
Rajesh Kr. Arora
Workshop Instructor
9417131388
2.
Sheet Metal Shop
Ranjeev Kumar
Workshop Instructor
9815105252
--
--
--
3.
Fitting Shop
Jatinder Kumar
Workshop Instructor
9417525904
Harbhajan Singh
Jr Tech
9988162756
4.
Welding Shop
Dilbag Singh
Workshop Instructor
9417090599
dilbagsohi@gmail.com
Sukhminder Singh
Workshop Instructor
9417026848
5.
Electrical Shop
Ranjit Singh
Tech-II
9465287408
6.
Carpentry & Pattern Making Shop
Avtar Singh
Workshop Instructor
9872837357
7.
Forging Shop
Narvinder Singh
Workshop Instructor
9463075661
Jagjit Singh
Jr Tech
9417581581
8.
Foundry Shop
Hemant Kumar
Workshop Instructor
9417752387
Harjinder S Atwal
Tech-II
9041586331
9.
Sanjeev Kumar
Lab Attendant
94635-66627
VARIOUS SHOPS IN CENTRAL WORKSHOP
Machine Shop: It is equipped with Lathes, Shapers, Milling Machines, Tool & Cutter Grinder, Radial Drilling Machine, Surface Grinding Machine, Bench Grinder and Weighing Machine. The various operations practiced by students in Machine Shop are Cylindrical Turning, Taper Turning, Step Turning, Facing, Threading, Cutting, Slotting, Milling, Grooving Chamfering, Drilling, Boring, Reaming etc.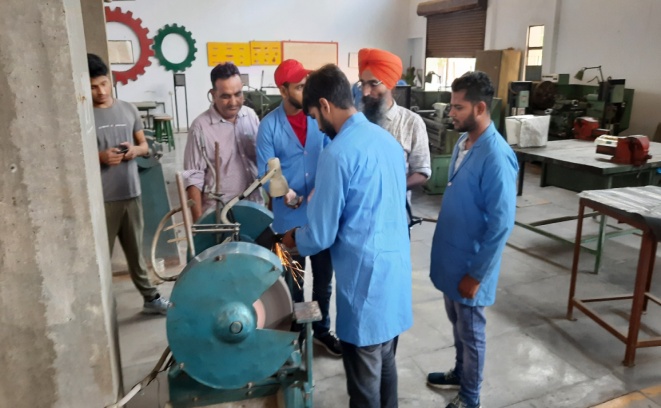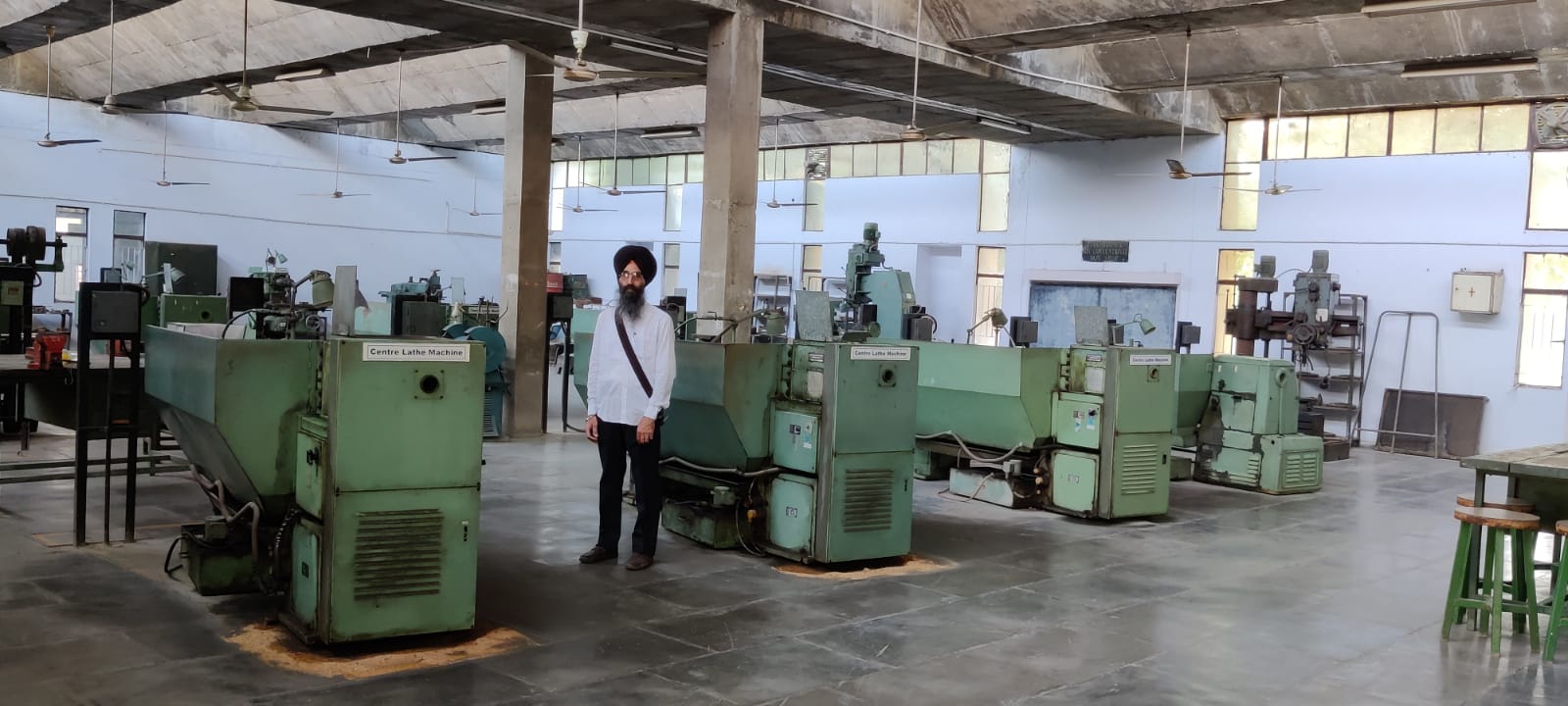 Sheet Metal Shop: The sheet metal implies metal and alloys in sheets rolled to thickness ranging from 10 S.W.G and thinner. Sheet metal work has its own importance in manufacturing industry and it plays an essential role in various aspects of our day to day needs. The indispensable engineering articles made of sheet metal find their application in agriculture, building construction, house hold, offices, laboratories and shop equipment, heating and air conditioning, transportation, decorative work, toys and many other such areas. Using specialized sheet metal tools the various concepts from development of surface to actual fabrication are practiced. The various operations performed during sheet metal jobs are cutting, rolling, bending and shaping. Different jobs are seam joint, lap joint, cylinder fabrication, tray fabrication, riveting applications.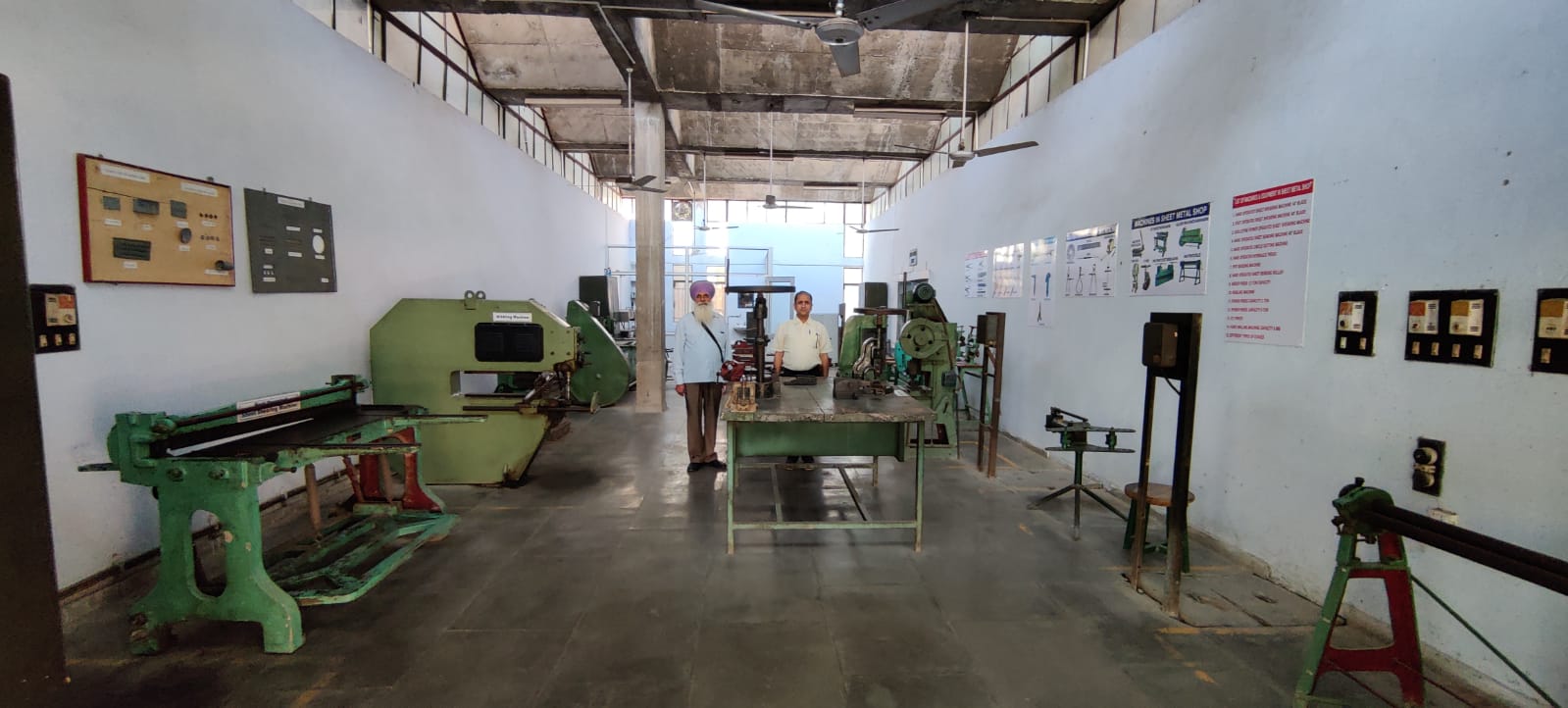 Fitting Shop: Fitting Shop involves a large number of hand operations to finish the work to desired shape, size and accuracy. The various operations performed are marking, chipping, sawing, filing, scraping, drilling, tapping (Internal threading) and dieing (External Threading). Students acquire skills in using tools and basic fitting equipment, identification of materials, description and demonstration of various bench vices, holding devices and files, drilling and threading tools. The basic operations performed in fitting shop are Filing, drilling, reaming, counter sinking, tapping, threading and grinding etc.
Electrical Shop: Study demonstration and identification of common electrical materials such as wires, cables, switches, fuses, ceiling roses, batten and allied items, tools, accessories, electrical safety measures and demonstration about use of protective devices. The students learn the process of star and delta connections, construction of transformer and winding of different motors, various type of wiring circuits etc.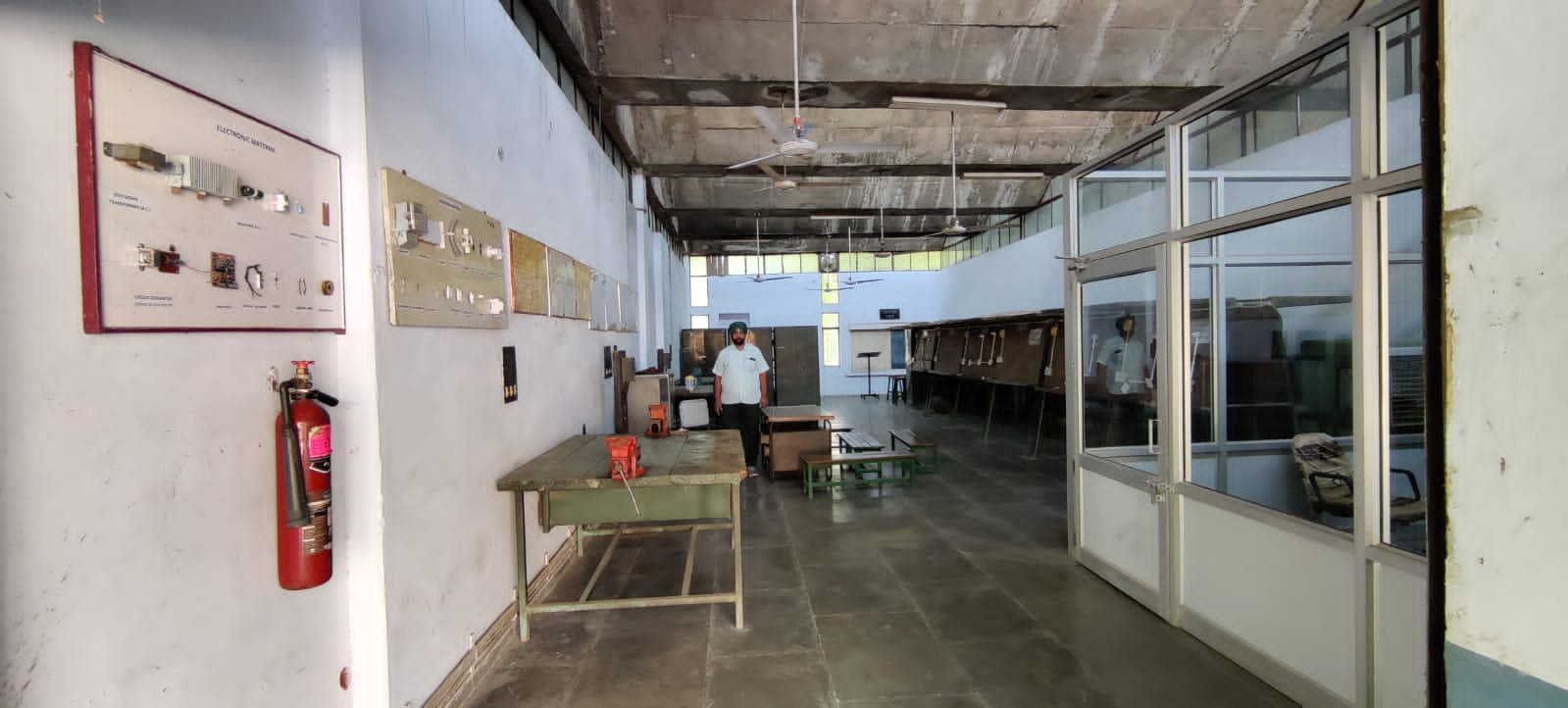 Welding Shop: Shop comprises Submerged Arc Welding, Gas Metal Arc Welding, Spot Welding, Arc Welding, Abrasive Wheel Cutter, Gas Welding and Cutting apparatus. The different operations practiced in welding in Welding Shops are Position Welding, Butt Welding, Lap Welding, Spot Welding, Dissimilar Metal Welding and Metal Cutting.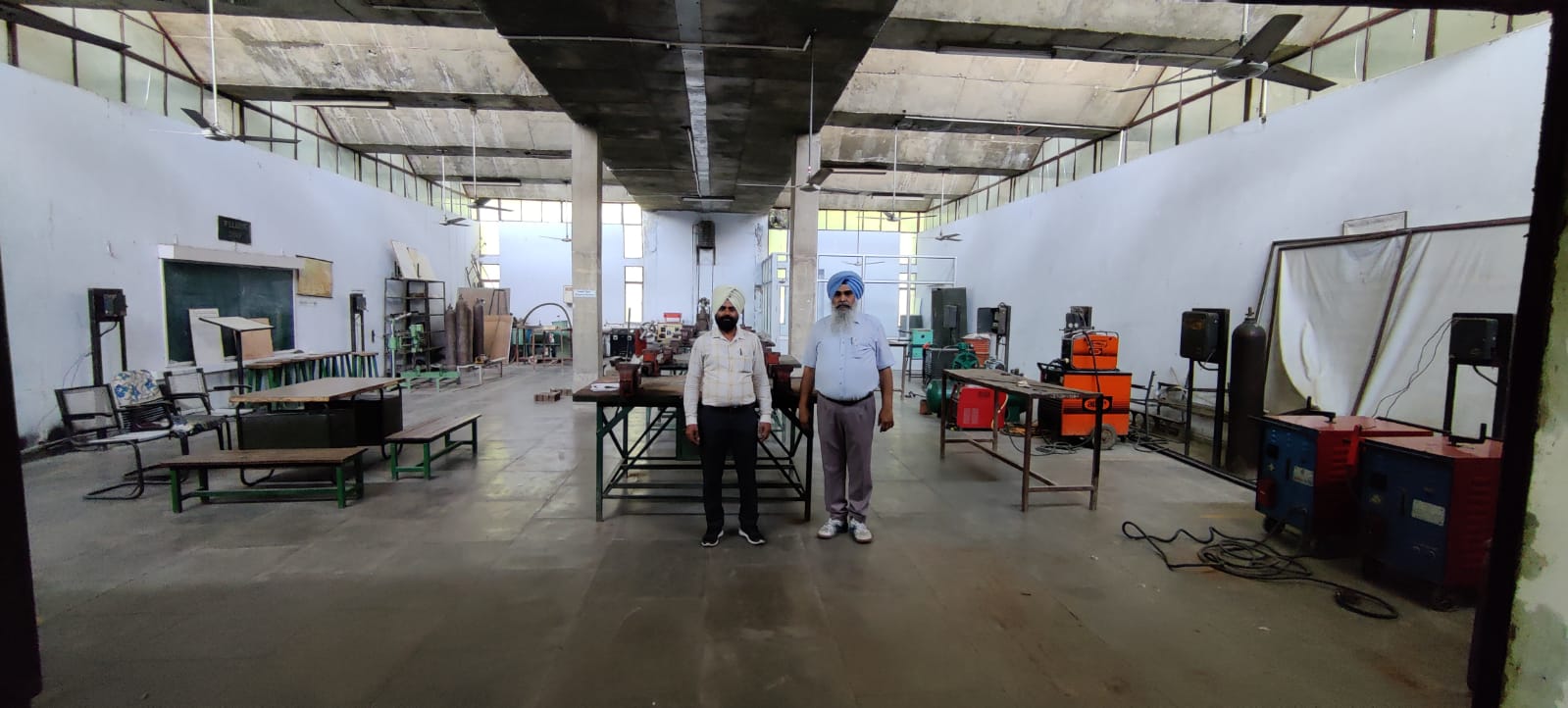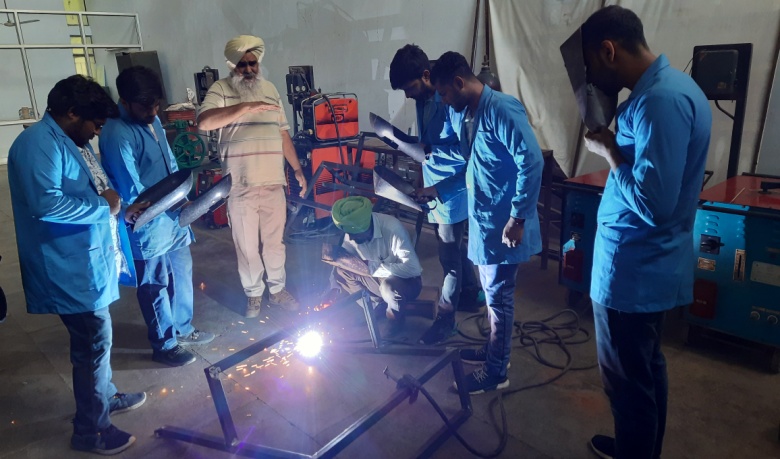 Carpentry Shop: Students acquire skills in using both power and hand tools and general information regarding wooden materials. Students undertake the practice of sawing, planning and chiseling operation. The shop is equipped with Wooden Lathes, Mechanized Planning and Grooving Machine, Drilling Machine, Band Saw, various types of Hand Saws, Wooden & Steels Planes and Miscellaneous Tools for performing different operations.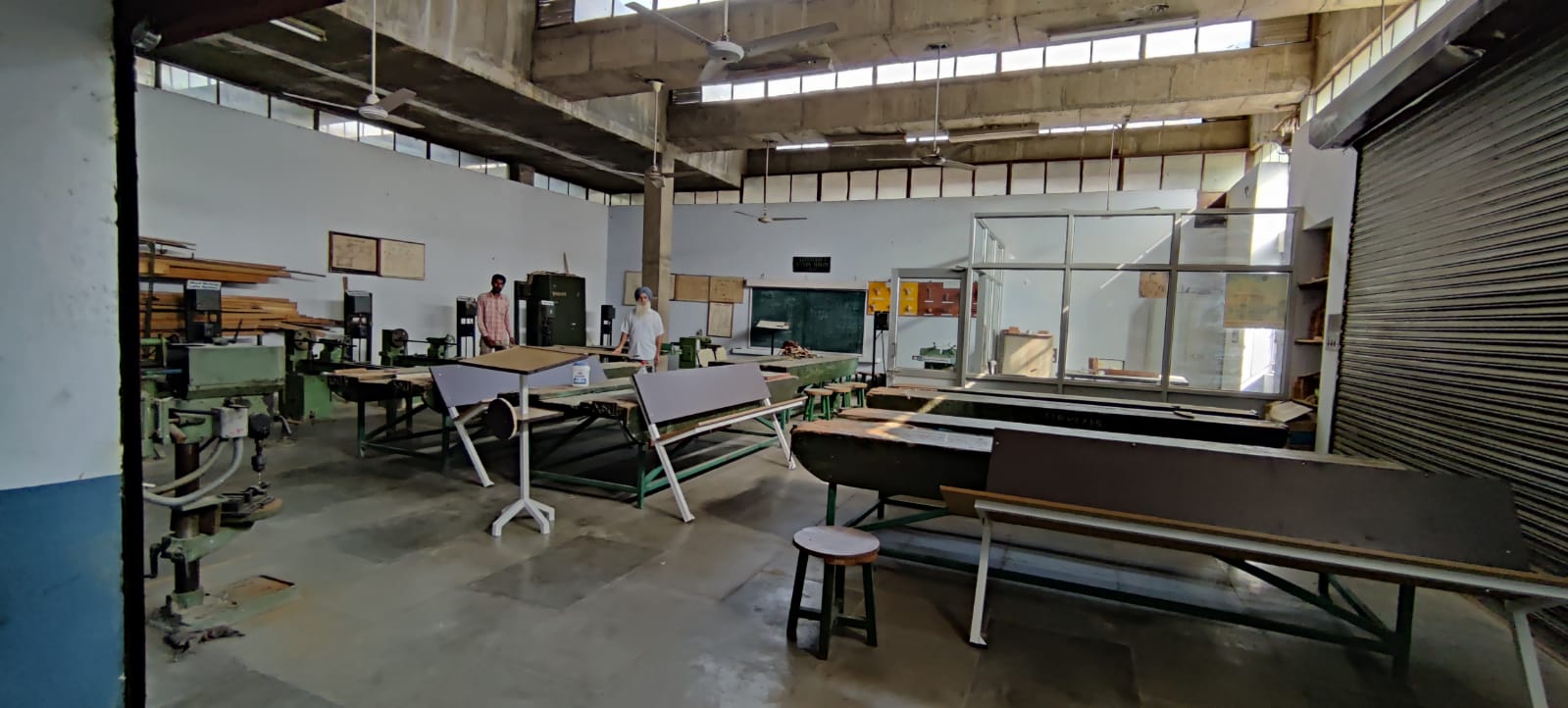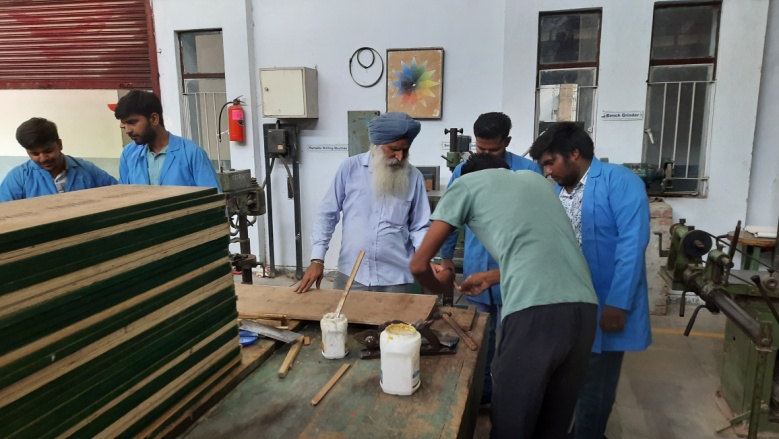 Smithy Shop: Forging is the process of shaping steel to desired form by heating them to forging temperatures (plastic condition) and by the application of hammer blows. This is one of the oldest manufacturing processes. The working of small objects heated in an open furnace, operated manually is known as Smithy. Technical knowhow is imparted on Blowers, Open Hearth Furnace, Induction Heating Furnace, Anvil Blocks, and Swage Blocks. Shop has state of the art Induction Heating Furnace. The various black smith operations performed in the shop are Fullering, upsetting, Drawing, Bending, Hot and Cold Forging etc. The jobs undertaken by the students in smithy shop are conversion of shape from raw material such as square shape, hexagonal, round shape and making letter by steel bars of different diameter and size of rod, screw driver, chisels etc.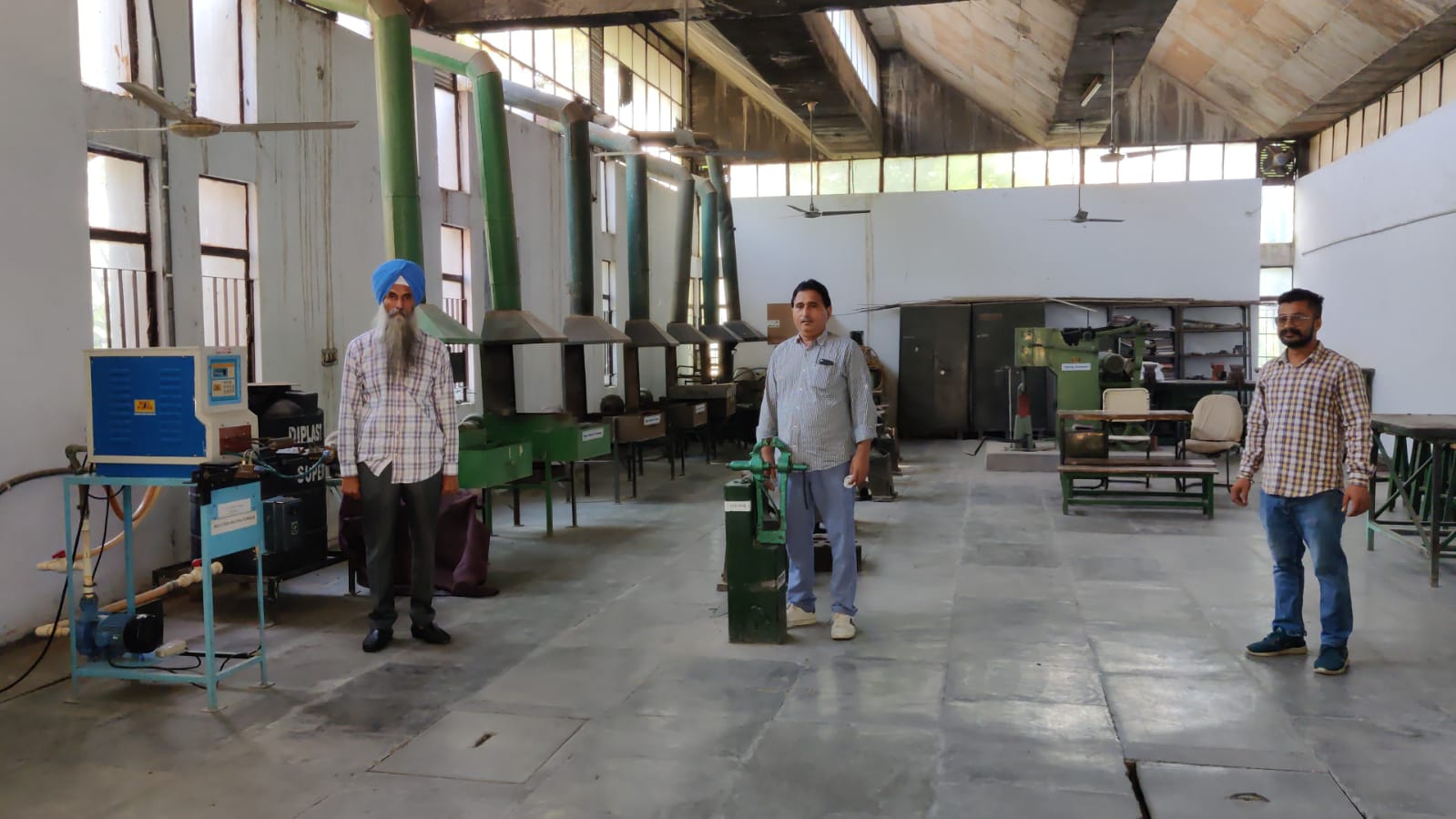 Foundry Shop: In foundry shop the students practise mould making with the help of various types of Moulding Sands, different types of patterns are used in the preparation of moulds. Sand preparation muller is also available in foundry shop to prepare sand for moulds. Students learn the processes of hot metal casting. The various testing equipment for sand & mould are also available in the sand testing laboratory. The basic operations performed in foundry shop are preparation of mould, melting of different metals like Aluminium, Brass and Copper and preparation of casting by using sand casting process. Different jobs in which the students practice are gating system, core making, testing of mould, permeability test and use of sieve shaker to obtain different mesh size of sand.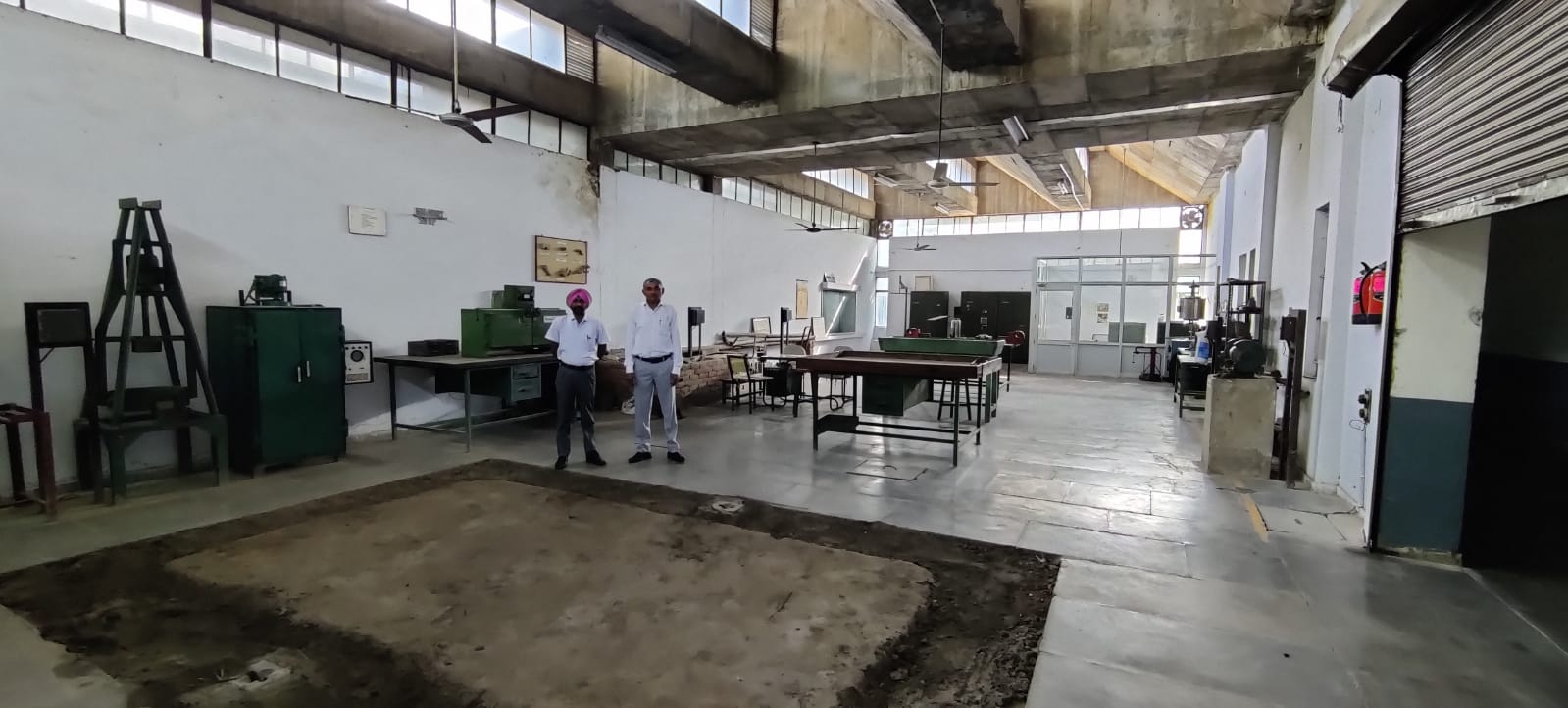 B Tech 1st year student undergo two weeks training program during summer vacation at the Central Workshop after the completion of second semester. B Tech major and minor projects of especially Mechanical engineering and Industrial & Production Engineering are Manufactured and Fabricated in the Central Workshop by the students.
In addition to the above mentioned program the B.Tech, M.Tech, PhD students perform experimental setup related works in Central Workshop to complete their projects, thesis work.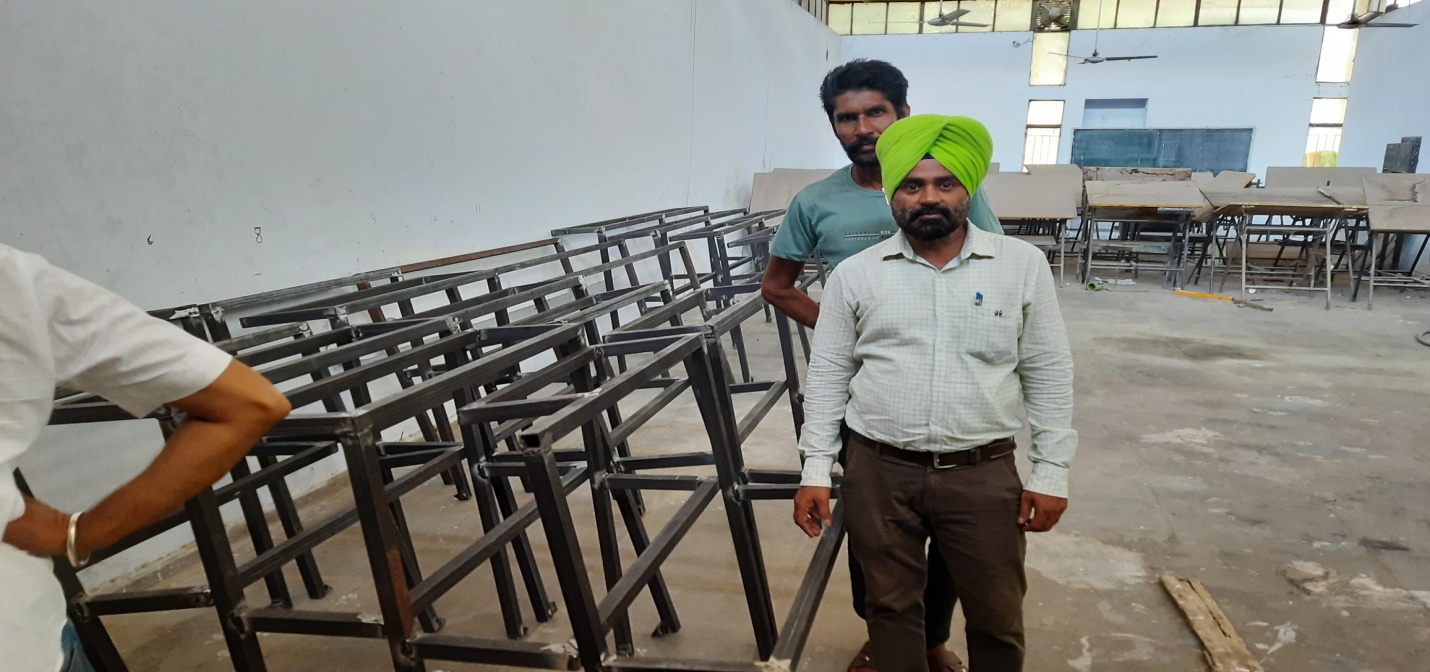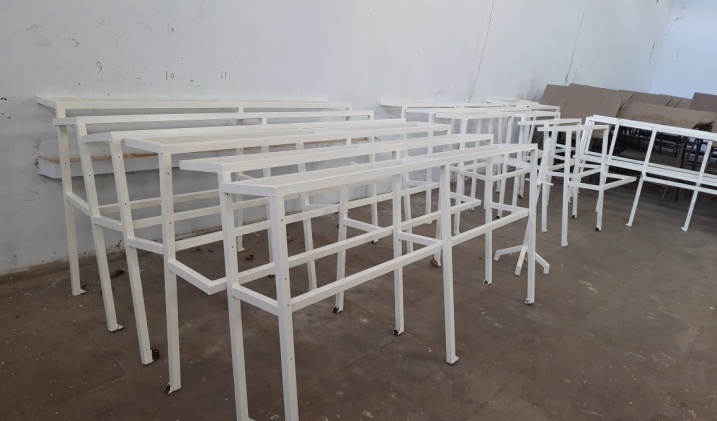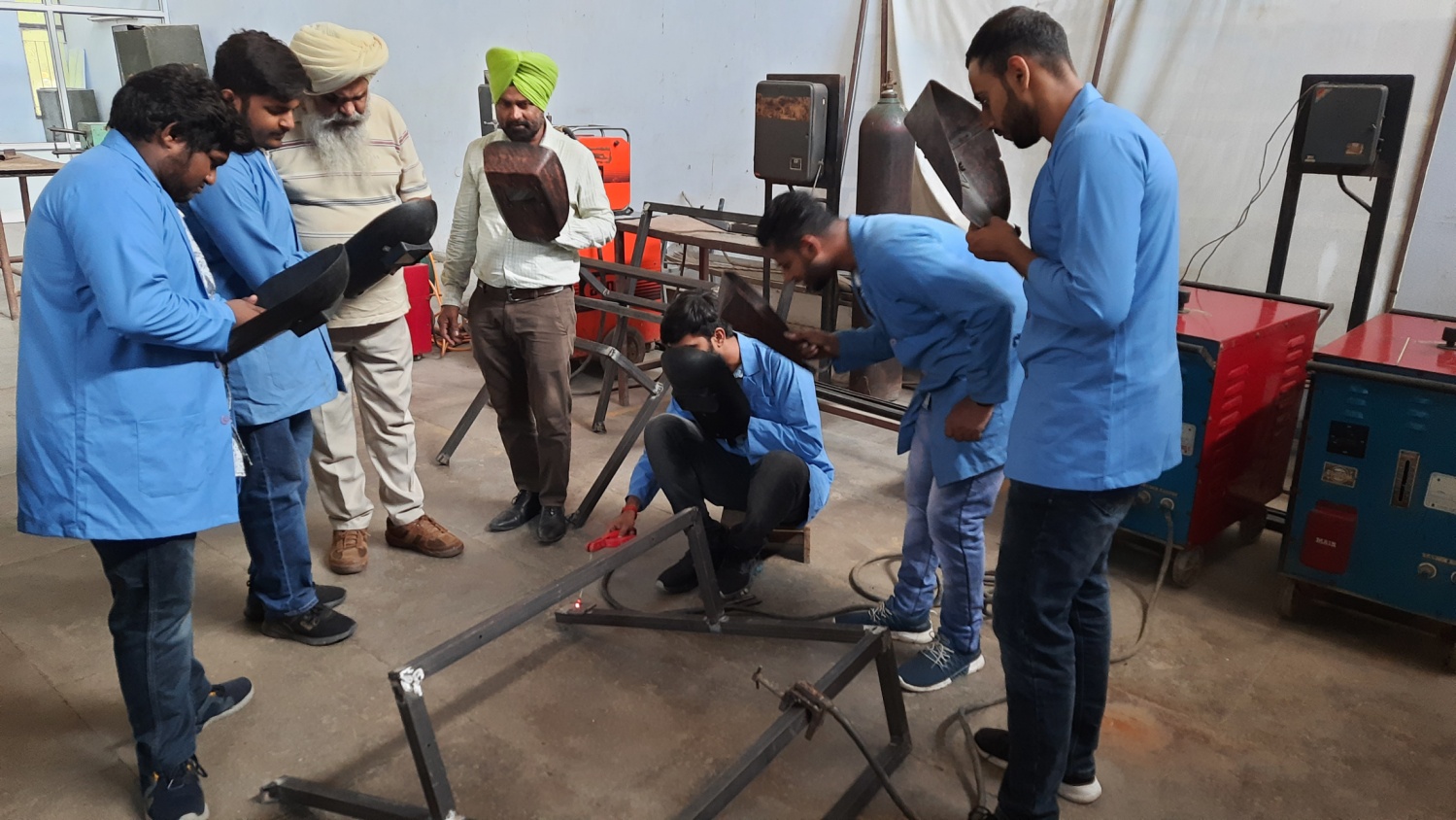 List of Machines & Equipment in Central Workshop
Machine Shop
Sr. No.

Name of Machines/Equipment

Quantity

1.

High Speed Precision Centre Lathe Machine (HMT NH-26)

01

2.

Centre Lathe Machine (HMT)

07

3.

Capstan Lathe Machine

01

4.

Radial Drilling Machine

01

5.

Column Type Drilling Machine (HMT)

01

6.

Vertical Slotting Machine

01

7.

Planner

01

8.

Shaper

02

9.

Universal Milling Machine (PRAGA)

01

10.

3-D Pantograph Milling & Engraving Machine

01

11.

Universal Tool & Cutter Grinder (HMT)

01

12.

Centreless Grinding Machine (HMT)

01

13.

Pedestal Grinder

02

14.

Bench Grinder

01

15.

Horizontal Metal Cutting Band Saw

01
Sheet Metal Shop
| | | |
| --- | --- | --- |
| Sr. No. | Name of Machines/Equipment | Quantity |
| 1. | Hand Operated Sheet Shearing Machine 14" Blade | 01 |
| 2. | Foot Operated Sheet Shearing Machine 48" Blade | 01 |
| 3. | Guillotine Power Operated Sheet Shearing Machine | 01 |
| 4. | Hand Operated Sheet Bending Machine 48" Blade | 01 |
| 5. | Hand Operated Circle Cutting Machine | 01 |
| 6. | Hand Operated Hydraulic Press | 01 |
| 7. | Pipe Bending Machine | 01 |
| 8. | Hand Operated Sheet Bending Roller | 01 |
| 9. | Arbor Press ½ Ton Capacity | 01 |
| 10. | Nibbling Machine | 01 |
| 11. | Power Press capacity 3 Ton | 01 |
| 12. | Power Press capacity 5 Ton | 01 |
| 13. | Fly Press | 01 |
| 14. | Hand Drilling Machine Capacity 6 mm | 02 |
| 15. | Different Types of Stakes | --- |
Fitting shop
| | | |
| --- | --- | --- |
| Sr. No. | Name of Machine/Equipment | Quantity |
| 1. | Marking Table (16" X 25") C.I. | 01 |
| 2. | Surface Plate (18" X 18") C.I. | 01 |
| 3. | Surface Plate (24" X 24") C.I. | 01 |
| 4. | Pedestal Grinder | 01 |
| 5. | Bench Drilling Machine Capacity ½" | 01 |
| 6. | Radial Drilling Machine Capacity 1" | 01 |
| 7. | Power Hacksaw | 01 |
| 8. | Parallel Jaw Bench Vice 6" | 26 |
| 9. | Parallel Jaw Bench Vice 4" | 04 |
Electrical Shop
| | | |
| --- | --- | --- |
| Sr. No. | List of Machine/Equipment | Quantity |
| 1. | Wiring Board With Stand | 06 |
| 2. | Multi Meter Pointer | 01 |
| 3. | Volt Meter (0-300 volt) | 02 |
| 4. | Volt Meter (0-250 volt) | 02 |
| 5. | Amp. Meter (0-30 amp.) | 02 |
| 6. | Amp. Meter (0-60 amp.) | 02 |
| 7. | Multi Meter Lab Type | 07 |
| 8. | Electric Meter 3 phase 4 wire | 02 |
| 9. | KWA Meter | 04 |
| 10. | Soldering Iron | 12 |
| 11. | Volt Meter AC/DC | 02 |
| 12. | Home Appliances | --- |
| 13. | De-soldering Pump | 04 |
Welding Shop
| | | |
| --- | --- | --- |
| Sr. No. | Name of Machine/Equipment | Quantity |
| 1. | M.I.G. Welding Plant | 01 |
| 2. | AC to AC Air Cooled Welding set 3 Phase | 01 |
| 3. | Spot Welding Machine | 01 |
| 4. | Gas Welding Set (Oxy-Acetylene) | 06 |
| 5. | Profile Cutting Machine | 01 |
| 6. | Pug Cutting Machine | 01 |
| 7. | Hand Operated Sheet Shearing Machine 14" Blade | 01 |
| 8. | Plasma Air Cutting Machine | 01 |
| 9. | Anvil Block | 02 |
| 10. | Bench Vice 6" | 08 |
| 11. | Bench Vice 4" | 08 |
| 12. | Swage Block | 02 |
| 13. | Portable Hand Grinder | 01 |
Carpentry Shop
| | | |
| --- | --- | --- |
| Sr. No. | Name of Machine/Equipment | Quantity |
| 1. | Spindle Molding Machine | 01 |
| 2. | Thickness Planer Machine | 01 |
| 3. | Jointer Planer Machine | 01 |
| 4. | Circular Saw Machine | 01 |
| 5. | Wood Working Lathe Machine | 02 |
| 6. | Universal Wood working Lathe Machine | 01 |
| 7. | Bench Grinder | 01 |
| 8. | Scroll Saw machine | 01 |
| 9. | Portable Drilling Machine Capacity ½" | 01 |
| 10. | Electrically Hand Planner | 01 |
| 11. | Band Saw Machine | 01 |
Forging Shop
| | | |
| --- | --- | --- |
| Sr. No. | Name of Machine/Equipment | Quantity |
| 1. | Induction Heating Furnace | 01 |
| 2. | Open Hearth Furnace | 06 |
| 3. | Swage Block | 04 |
| 4. | Anvil With Stand | 05 |
| 5. | Leg Vice 4" | 02 |
| 6. | Bench Vice 6" | 05 |
| 7. | Bench Vice 4" | 04 |
Foundry Shop
| | | |
| --- | --- | --- |
| Sr. No. | List of Machine/Equipment | Quantity |
| 1. | Sand Muller | 01 |
| 2. | Mechanical Sieve Shaker | 01 |
| 3. | Oil Fired Tilting Crucible Furnace | 01 |
| 4. | Pit Furnace | 01 |
| 5. | Drying Core Oven | 01 |
| 6. | Bench Grinder | 01 |
| 7. | Platform Weighing Machine | 01 |
| 8. | Anvil with Stand | 01 |